Be Boss of Your Bladder.
ELITONE URGE brings the calm to your overactive bladder.
Be Boss of Your Bladder.
ELITONE URGE brings the calm to your overactive bladder.
"Game changer! I thought incontinence was my life sentence. I'm seeing real results"
– Mom of 4
Overactive Bladder
If you feel a sudden uncontrolled urge to urinate and you can't quite make it to the bathroom in time, that is called overactive bladder (OAB), also known as urge incontinence.
Get Calm
Your nerves are mistakenly telling your bladder muscles to contract, even when it isn't full. Your bladder needs to calm down. ELITONE URGE can help.
Worry Less
You'll worry less knowing that urgencies are under control, and you aren't chained to the toilet. All for less than you spend on pads each year.
How bulky will your pads get?
With just 20 minutes a day, you can see fewer leaks in weeks.
It's as simple as putting on a pad.
Discreetly wear it under your clothes. Shhh! No one needs to know.
It's so thin and comfortable that you may forget you're wearing it as you do other things.
It's FDA-cleared, doctor-recommended, and ELITONE URGE reduced leaks in 97% of women in clinical studies.
Soon you'll be the Boss of Your Bladder.™
"ELITONE URGE changed my life. I now have complete control over urination again! No surprises, no worries."
– Diana, 66, incontinent for 14 years
ELITONE® URGE
$495 as low as $34/month or $399
FREE GIFT: Storage pouch with ELITONE URGE purchase. (while supplies last, no coupon required)

ELITONE URGE + 10 GelPads ($399). 6-week treatment. Most popular option. Best for mild-moderate symptoms.
ELITONE URGE + 30 GelPads ($503).  12+ weeks of treatment. For more severe symptoms. (half the GelPads ship now, half after 30 days)
Easy. Effective. External.
ELITONE URGE reduces your sudden urges to pee.
ELITONE URGE helps you regain control over your bladder. This FDA-cleared, doctor-recommended treatment eliminates the risks and side effects of medicines or surgery. Most women see results in just a few weeks.
Treating with ELITONE URGE gives you FREEDOM!
Freedom from bulky, smelly, expensive pads
Freedom from being tethered to a toilet
Freedom from OAB medications
Freedom to treat whenever and wherever you want
Snap the patient cable onto the GelPad.
Stick the blue areas on your skin, placing it right around your pubic bone. (It won't pull hair.)
Connect the cable to the controller, turn it on, and set your treatment intensity.
Get dressed and multitask while ELITONE URGE calms your overactive bladder.
Use ELITONE URGE 20 minutes per day, 4-5x per week. Most women see excellent results after just 6 weeks of use. After that many women reduce treatments to a few times a month or stop completely.
"This device is awesome. I now have very few accidents, and can go much longer between bathroom visits." –  Janice
"Very simple, easy to use and effective within a week. I couldn't believe how much less urgency I had!" – LSW
"Initially, I was doubtful, but it really has made a very noticeable difference." – Sakeenah
"I am so happy my life is so much better now." – Cathy
"This is the best treatment I have tried so far, and I have tried several." – Noreen
"I definitely had REDUCED accidents, in volume and quantity!" – Laura
Targeted Waveform
ELITONE URGE is expertly engineered to deliver a small electric signal to the muscles and nerves of the pelvic floor. The precise makeup of this signal is the key to effectivity and comfort.
ELITONE URGE delivers a 10Hz signal that calms overactive nerves that may be firing incorrectly. It also utilizes pre-modulation technology to allow the signal to pass comfortably through the skin and reach the deeper, targeted tissues.
Clinical Studies
ELITONE URGE is an FDA-cleared medical device that has been scientifically evaluated in several clinical studies.
95% of study participants achieved fewer leaks after just 6 weeks.
They recorded 70% reduction in leaks.
They improved on all 22-points of the standard Incontinence Quality-of-Life assessment.
Because of those excellent results we're able to offer a 60-day money-back guarantee.  We consistently see only 4% of purchasers return ELITONE URGE because they aren't satisfied with how it's working.
Doctor Recommended
While ELITONE URGE has over-the-counter designation, many healthcare providers recommend or prescribe it to their patients, including:
Gynecologists
Urogynecologists
Urologists
Primary Care Physicians
Pelvic Floor Physical Therapists
Naturopaths
Compare ELITONE URGE to the alternatives
ELITONE URGE is a low-risk alternative to traditional treatments. It is easy, external, and effective working directly on primary nerves, making it the obvious choice for many women.
Doing Nothing
Doing nothing is expensive. Pads can really add up. If you treat your leaks before they are severe you'll save money (and mess and stress) in the long run.
Medications

The drugs used to treat OAB must be taken continuously and often cause serious side effects, including increased risk of dementia and dry mouth. Those with fewer side effects are VERY expensive.
Sacral Nerve Stimulation
This electrical device is implanted in your lower back. It stimulates nerves connected to the bladder, making them less likely to contract unexpectedly. Their effectiveness can reduce over time, requiring removal.
Percutaneous Tibial Nerve Stimulation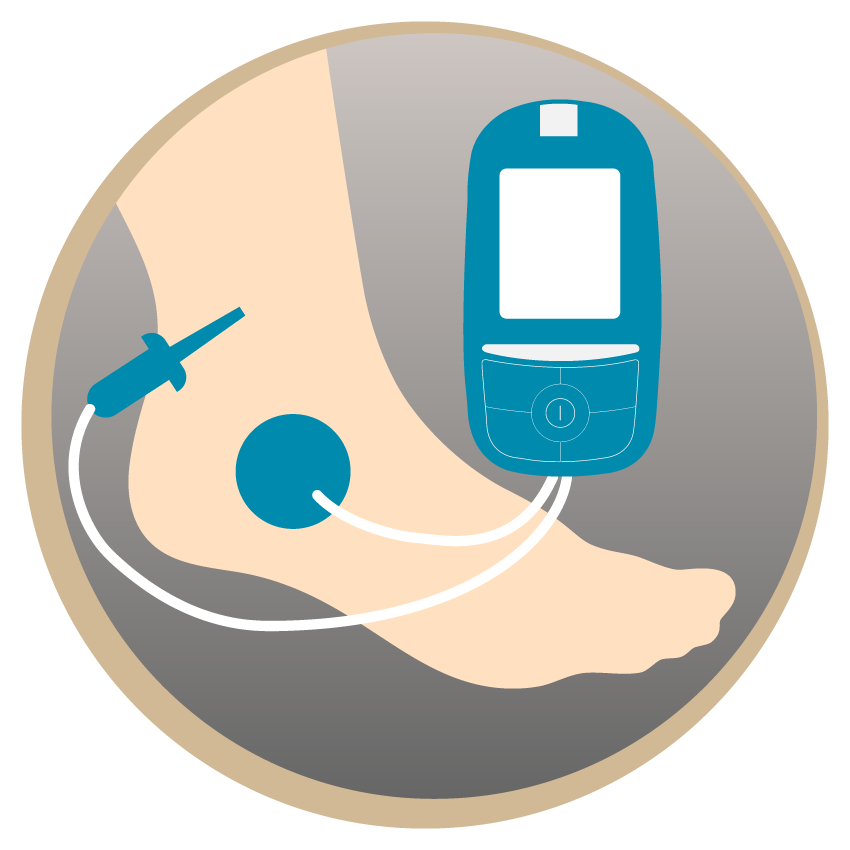 This stimulation treatment is done weekly in the office over months, and works on secondary nerves. Secondary nerves are not as effective as stimulating the primary nerves.
Comparison Chart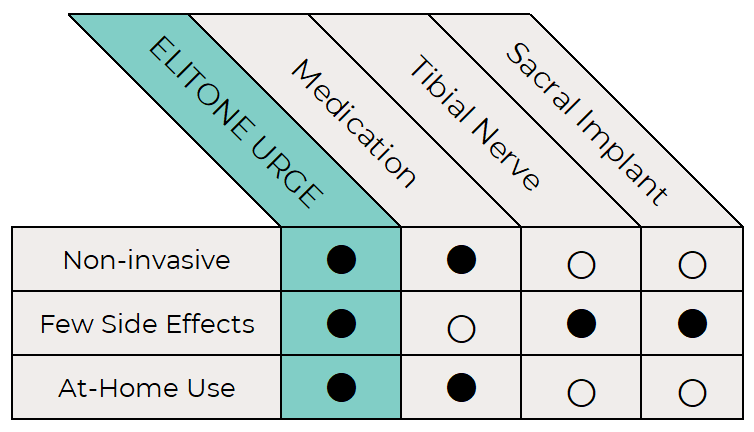 There is more than one type of incontinence (and ELITONE)?
ELITONE comes in two versions, one to treat stress incontinence and one to treat urge incontinence.  If you leak when you cough, or sneeze, or laugh, or exercise, the original ELITONE may be best for you. If you have both stress and urge incontinence (mixed), the ELITONE may be right for you as it sends out both signals. ELITONE URGE only sends out calming signals.