Waking more than once a night to urinate?
If so, you have Nocturia. Learn how compression socks can help.
Waking more than once a night to urinate?
If so, you have Nocturia. Learn how BetterSleep™ compression socks can help.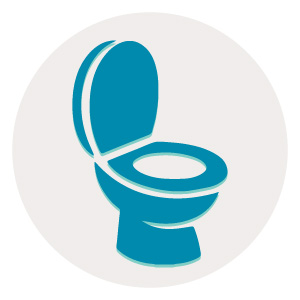 Nocturia
One cause of nocturia is fluid accumulating in your legs during the day (thanks to gravity). When you lie down to sleep, this fluid re-enters the bloodstream and is processed by the kidneys, producing excess urine throughout the night.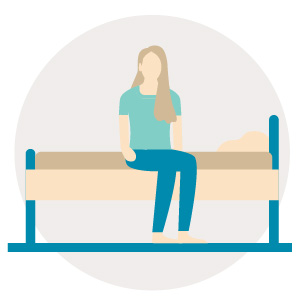 Interferes with Sleep
This overproduction of urine causes you to wake multiple times a night, which interferes with sleep. This leads to fatigue and sleepiness throughout the day.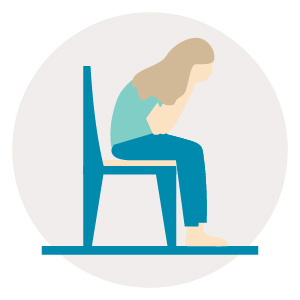 Impact on Well-being
This poor sleep quality can lead to "cognitive impairment, mood alterations, increased susceptibility to disease, decreased work performance, dizziness, increased risk of falls, depression, and mortality."[Bliwise et al]
Compression Socks can Help
Wearing compression socks during the day prevents fluids from accumulating in your legs, which can reduce the overproduction of urine at night, which means fewer nighttime bathroom visits. You'll sleep better, and wake up feeling more rested.
Recommended by Doctors
Daytime use of compression socks is widely recommended by clinicians and healthcare organizations as an effective nocturia treatment to manage urinating at night.
.
BetterSleep™

Compression Socks

$19.99 $29.99
Best Compressions Socks if you wake up at night. Effective, simple and cost-effective for a better night sleep.
Medical-grade compression (20-30 mmHg)
Graduated design (tighter at ankle) for comfort
Wide calf size available (ideal if calf is > 15 inches)
Material: 85% Nylon, 15% Spandex
Care: Hand wash and line dry
Compression socks are not recommended for nighttime wear.
WATCH TO SEE HOW COMPRESSION SOCKS HELP
"These are the best compression socks I have tried. Not too thick or thin, easy to get on, and they seem to work great."
– Robbin
"When I wore the socks [during the day] I did not have to wake up to go to the bathroom during the night. Yah!!"
– Laura
Who should wear compression socks?
ELITONE BetterSleep™ provide medical-grade (20-30 mmHg) compression for the best compression socks benefits. If you wake up at night to pee, BetterSleep™ socks may be for you. More specifically, if you are on your feet all day, if you are older, or you are pregnant or post-partum, consider ELITONE medical-grade compression socks. One size fits most feet, and two calf sizes are offered. The wide calf size provides 20% more stretch. ELITONE BetterSleep™ socks are:
compression socks for women
compression socks for men
compression socks for pregnancy
compression socks for nursing
compression socks for post-partum care
Stop Managing, Start Treating, with ELITONE URGE.
Compression socks, elevating your feet, and reducing fluid intake are all ways to MANAGE urinating at night, but they aren't really treatments for leaks associated with overactive bladder.  ELITONE URGE is a non-invasive, FDA-cleared treatment for urinary urge incontinence. No pills, No surgery, No worries.
Use code SOCKS at checkout to get a free pair of compression socks + $25 OFF with your ELITONE or ELITONE URGE device purchase.
.